Regular price
Sale price
$39.99 USD
Unit price
per
Sale
Sold out
MiiCoffee Nano Coffee Scale fits in your palm and most espresso machines. It gives split second readings with measurements up to 3 pounds, in 0.1-gram intervals. It includes a built-in timer that's been optimized for pour-over coffee. The tiny Scale is equipped with invisible LED screen and hidden touch control. Use it to weigh out your grounds and then activate the built-in timer to track your slow-but-steady spiral pour. It's not just for coffee. You can use it to weigh out ingredients for sourdough, measure a perfect serving of almonds, and more. Plus, it weighs in grams, ounces and mls, has an auto shut-off to save battery life, and features a smooth, flat surface that simply wipes clean.
Highlights
Tiny scale fits in your palm and most espresso machines
PR1 Espresso Mode: In PR1 Espresso Mode the scale starts weighting and timer automatically once it senses the first drip of coffee. Please check the video for demo.

Clean minimalist design makes it easy to clean and just

as

easy to store

Provides split-second precision with measurements up to 3 lbs and measures in 0.1-gram intervals; also works in ounces and mls

Built-in timer optimized for pour-over

 coffee

Built-in rechargeable lithium-ion using Type-C charging port and compatible with fast chargers

Auto shut-off saves battery life
Product Dimensions: 3.9

 x 3.7 x 0.7 inches; 7 ounces

Units: g / oz / ml

Weighing Resolution: 0.1 g

Weighing Max: 3lbs

Battery: 

800mah rechargeable lithium-ion

Charging Port:  Type-C USB and compatible with fast chargers e.g. USB-PD
What's in the box
Digital coffee Scale

Silicone Pad
Type-C USB charging cable

Manual
FAQ
Please make sure scale is turned on.
Use USB charger that provides 5V and 1A. 
How to do I switch mode between PR1 and PR2?
Double tap the time button twice (4 taps).
Manual
Shipping & Returns

Free shipping on orders over $69.

Returns are accepted up to 30 days from the date the order was delivered. Open Box items are non-returnable.
Share
View full details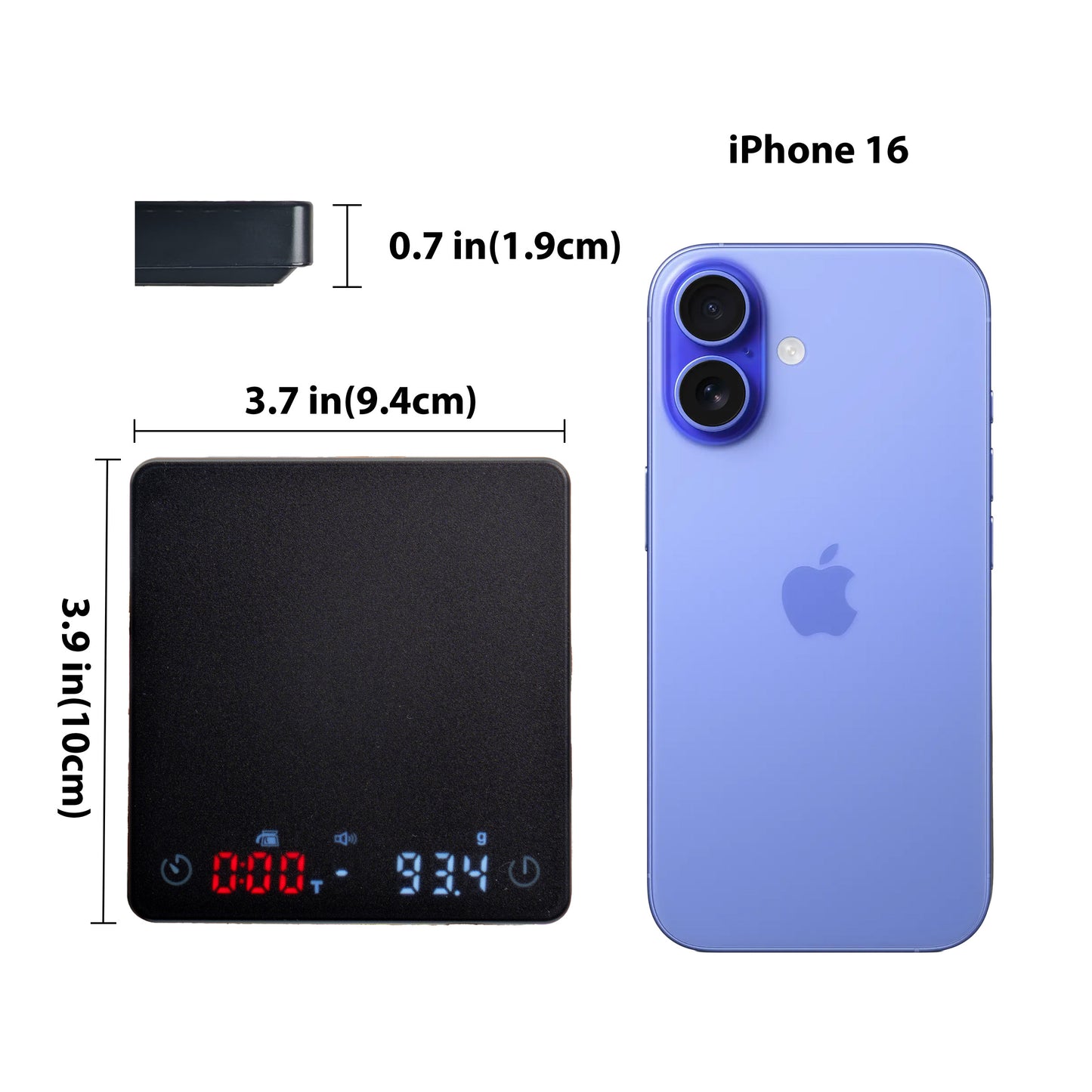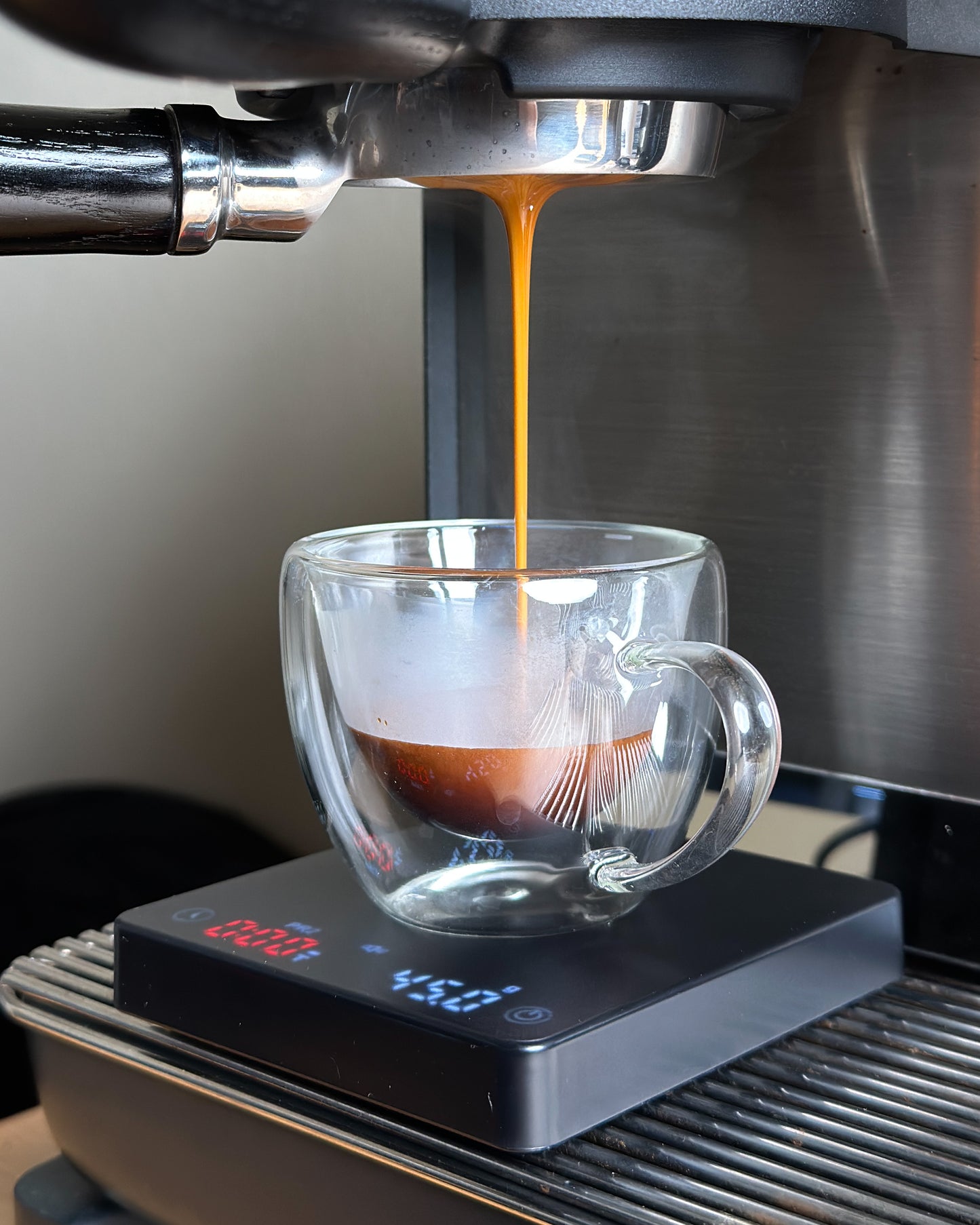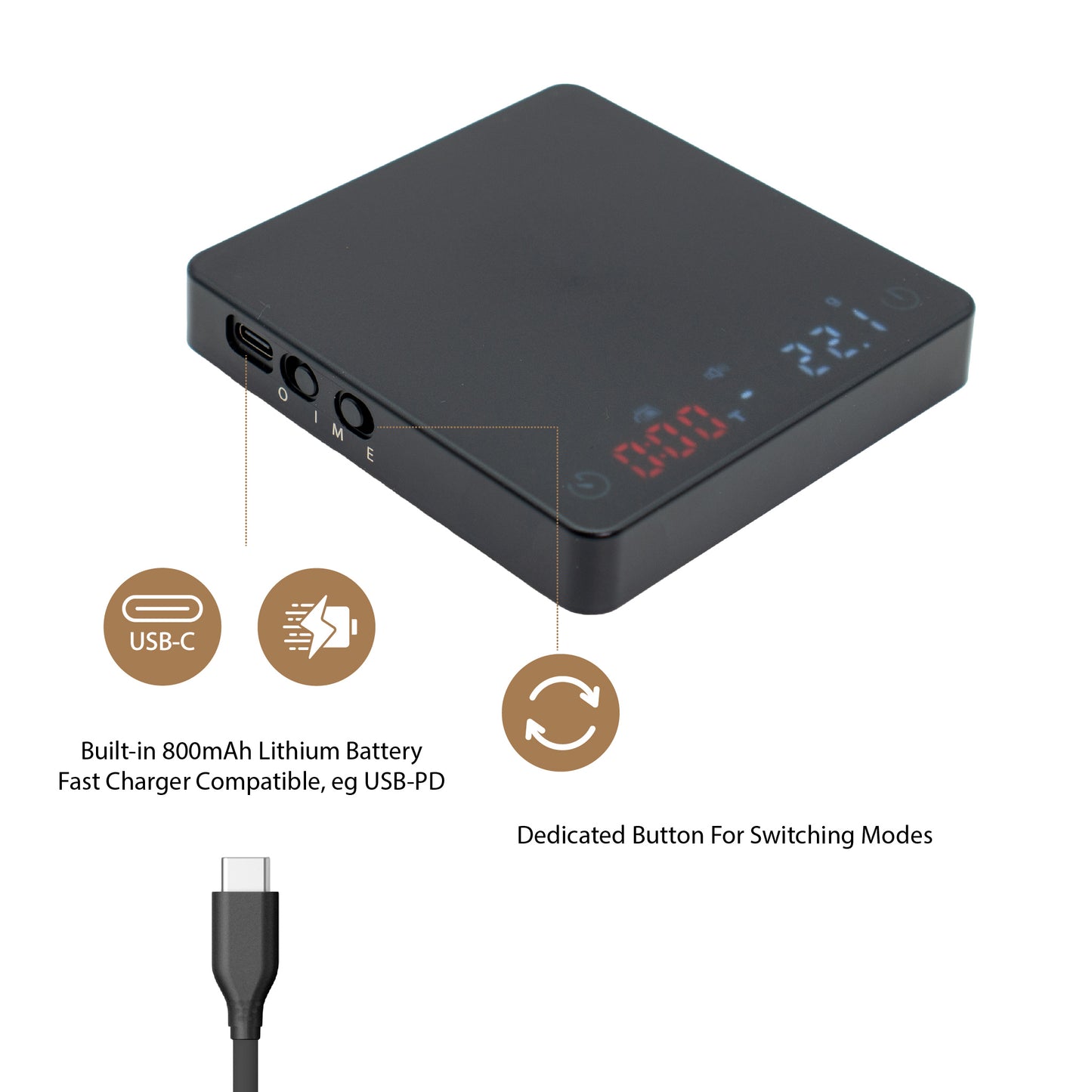 Be sure you have a 5V/1A charger before you buy this, otherwise you will not be able to charge it
When I first bought it I saw in the description "USB-C" port, so I figured I could just plug it into one of my computers. Unfortunately, I didn't read further down into the description that says you must provide a 5V/1A charger. So I had to buy the charger as a secondary purchase, and I cannot recall a time I ever bought a consumer device where I had to buy a separate charger. The first unit that was shipped to me just did not turn on properly, and Mii sent out a replacement quickly that works just fine. It's kind of a quirky piece of equipment, for instance you must turn it 'On' to charge it... But, overall, it does what it is supposed to do. I ended up using it strictly for weight, as the espresso machine I bought has its own shot timer.
Our next batch should support USB PD fast charger. Thank you for the feedback.
Battery wouldn't charge
Based on other comments I tried multiple chargers and cords to no avail for several days - after only 60 days the scale wouldn't take a charge - very disappointing product
Please use slow charger that outputs 5V and 1A. The old iphone charger should work just fine.
Very Quirky Scale
It is exceedingly difficult to tare this scale. Every double tap results in one of two actions:
1) The scale just keeps switching between grams, mL and ounces or
2) The scale doesn't tare at all and it goes this way until you get lucky enough to hit the right spot.
It may have been better to place the tare function into the weight readout instead of on the power button where you also tare from.
The timer function is nigh useless to me. It starts fine and all, but it often stops during pre-infusion when there are mere drops in the cup and then sits there at 1 or 2 seconds while the shot continues to pour into the glass. I then have to guess the weight (lucky I know my cups) of the pour.
With the included silicone mat, some cups are just slightly too tall and oftentimes I find myself not even using it. I fear this will end up marring the surface of the scale at some point, so I've been avoiding using the scale a lot in favor of the one this MiiCoffee Nano should have replaced.
TL;DR - I bought this for its automatic espresso feature, but that feature does not work very well as the timer stops too soon after detecting a zero weight change. Using the tare feature is a hardcore and frustrating chore.
Was good, didn't last - UPDATED
This unit worked exactly as I desired until it was time to charge it. Then the unit wouldn't charge. I've tried multiple chargers and outlets and nothing will make it charge. Disappointing; it only lasted about 60 days.
(Can't add a reply) - thanks for the response. It took some real searching, but finally found a charger that was slow enough and it did work! Thanks! Updated stars to 4 because the unit works quite well. The need for an antiquated charger is not ideal, but is workable.
Please use a slow charger that can output 5V and 1A. Usually any old generation charger should work
Perfect
High quality perfection! 🤩 trust me, you will not regret your purchase!