Regular price
$185.00 USD
Regular price
Sale price
$185.00 USD
Unit price
per
Sale
Sold out
SSP Cast Lab Sweet 64mm Flat Burrs feature a custom geometry design, similar to the burrs found in the Ditting 807 Lab Sweet. The burrs are designed to provide a sweet and complex flavor profile, good body, and mouthfeel that is difficult to obtain with blades processed in the brewing range. The burr set delivers an optimal particle size spread within the grounds and achieve a consistent extraction and more sweetness.
These 64mm burrs are made from cast steel and have a DLC (diamond-like carbon coating). It helps increase the lifespan of the burr set and the low coefficient of DLC coating makes low retention and keeps the sweetness of your coffee. These burrs really shine when brewing pour-overs and can also be used for espresso. 
Features
Special Geometry  

Special burr geometry reminiscent of the Ditting Lab Sweet 

Silver Knight Coating

 Silver Knight DLC coating for increased lifespan.
DF64, DF64E, DF64P, DF64V

Option-O Lagom

P64

Mazzer Super

Jolly

and

Mini

-

E

Anfim

Caimano

and

CODY

II

Ceado

E5P

,

E6P

, and

E37J




Fellow

Ode (newer version)
Shipping & Returns

Free shipping on orders over $69.

Returns are accepted up to 30 days from the date the order was delivered. Open Box items are non-returnable.
Share
View full details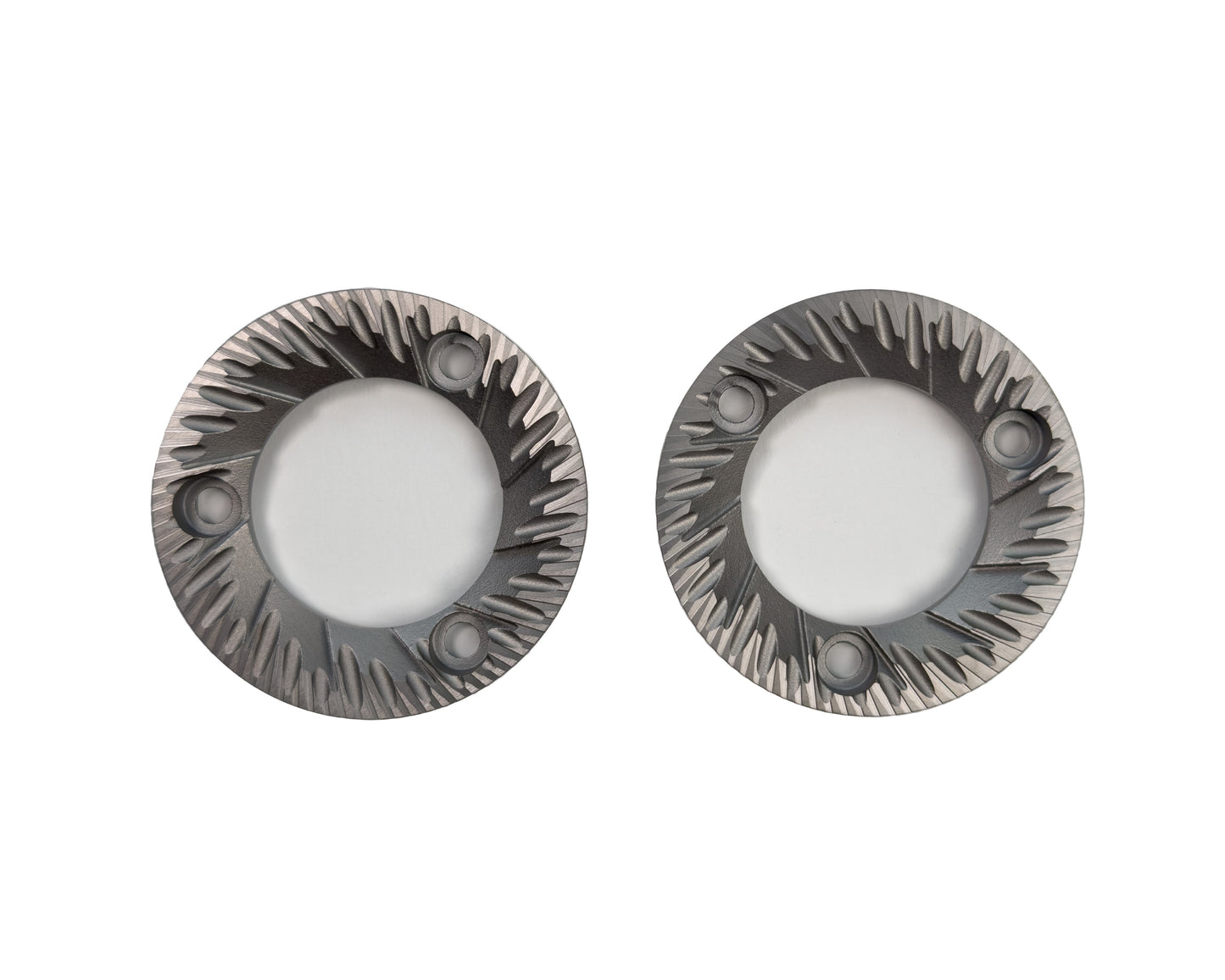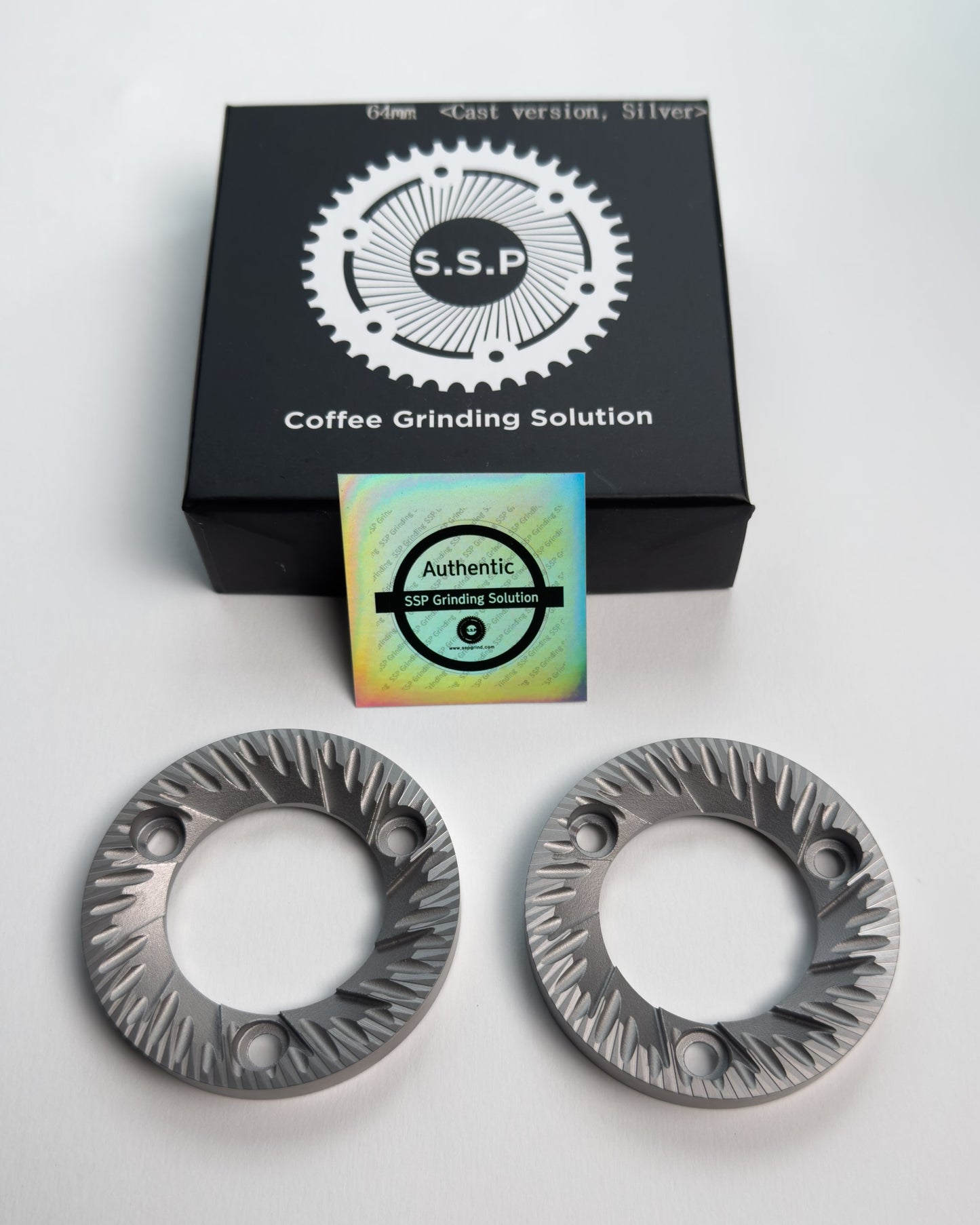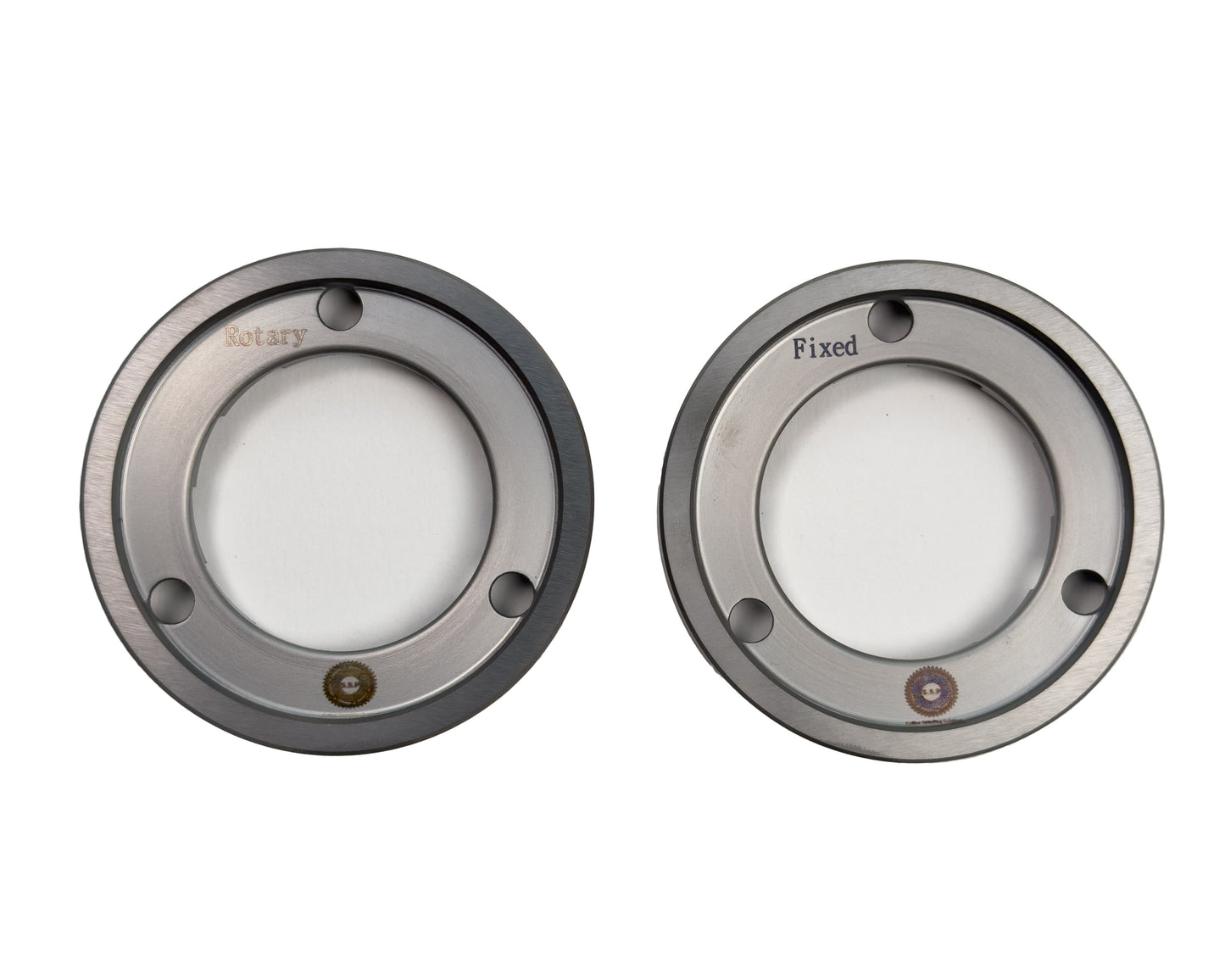 So far so good
Leg me start by saying I'm not a coffee expert by any stretch of the word. It took me a while to align the burrs, another while to set the zero point on my DF64E, and yet some more time getting the grind size right for the recipe (14 grs, 2:1 ratio, 28 seconds), but when I did, I got the best coffee I've had at home, and it even rivaled many coffee shops I've tried.
Now to the burrs themselves, they seem really high quality, solely built, very precise milling. The ony blemish is a tiny gauge in one of the cast slots in the rotary burr, but I can't see that affecting the end result in any noticeable way, at least not on my level. The coffee coming out of them is very nuanced, with great body, not bitter in a bad way, not sour, may I say a bit sweet even? This may be confirmation bias, sure, and of course it depends on the coffee (I've only tried 2 varieties) but it tastes and feels really nice. Still a long way until I get good at this craft, but I'm enjoying it.
MiiCoffee's service was also top-notch.
Incredible clarity and sweetness
I was thinking about selling my DF64 almost immediately after I got it. Compared to even my Breville there was an unpleasant flavor and texture about the shots I pulled. I decided to give these burrs a shot instead. Immediate improvement to both flavor and texture. I understand what they mean by sweet...there is a brightness that evokes sweet and the texture is far smoother than the original burrs. I'm 110% satisfied. MiiCoffee delivered on price and quality.
Lab sweet w/ df64
Great shipping speed for standard shipment. Arrived as well as you'd expect. Still working through if I prefer it for espresso to MP burrs, but love it for pour over for sure. I only use it for light or light/med.