Regular price
Sale price
$14.99 USD
Unit price
per
Sale
Sold out
The WDT Tool with Stand is the perfect espresso distribution tool. Featuring the Weiss Distribution Technique, this tool helps create a superior and consistent espresso extraction. The preconfigured 9 pins spread out strategically for efficient stirring. The included pins are made of food safe stainless steel and are 0.4mm in diameter. This gives the perfect combination of rigidity and flex allowing you to break up clumps for a smooth extraction. We also give you additional set of 0.25mm needles if you want to try the soft flex needles. Our WDT has 3 strong magnetic points that you can use to attach to any steel espresso machine.
Highlights
9 Needles Spread Out Strategically Uses 0.4mm diameter stainless steel needles for perfect combination of rigidity and flex. 9 needles spread out strategically for efficient stirring.
Additional Set of 9 Needles With 0.25mm Diameter If you prefer soft flex swap out and use included 0.25mm diameter needles.
3 Magnetic Points: Our WDT has 3 strong magnetic points that you can use to attach to any steel espresso machine

.

Uniform & efficient stirring: This WDT tool works really well to keep the coffee grounds from clumping and for a smoother coffee.
Shipping & Returns

Free shipping on orders over $69.

Returns are accepted up to 30 days from the date the order was delivered. Open Box items are non-returnable.
Share
View full details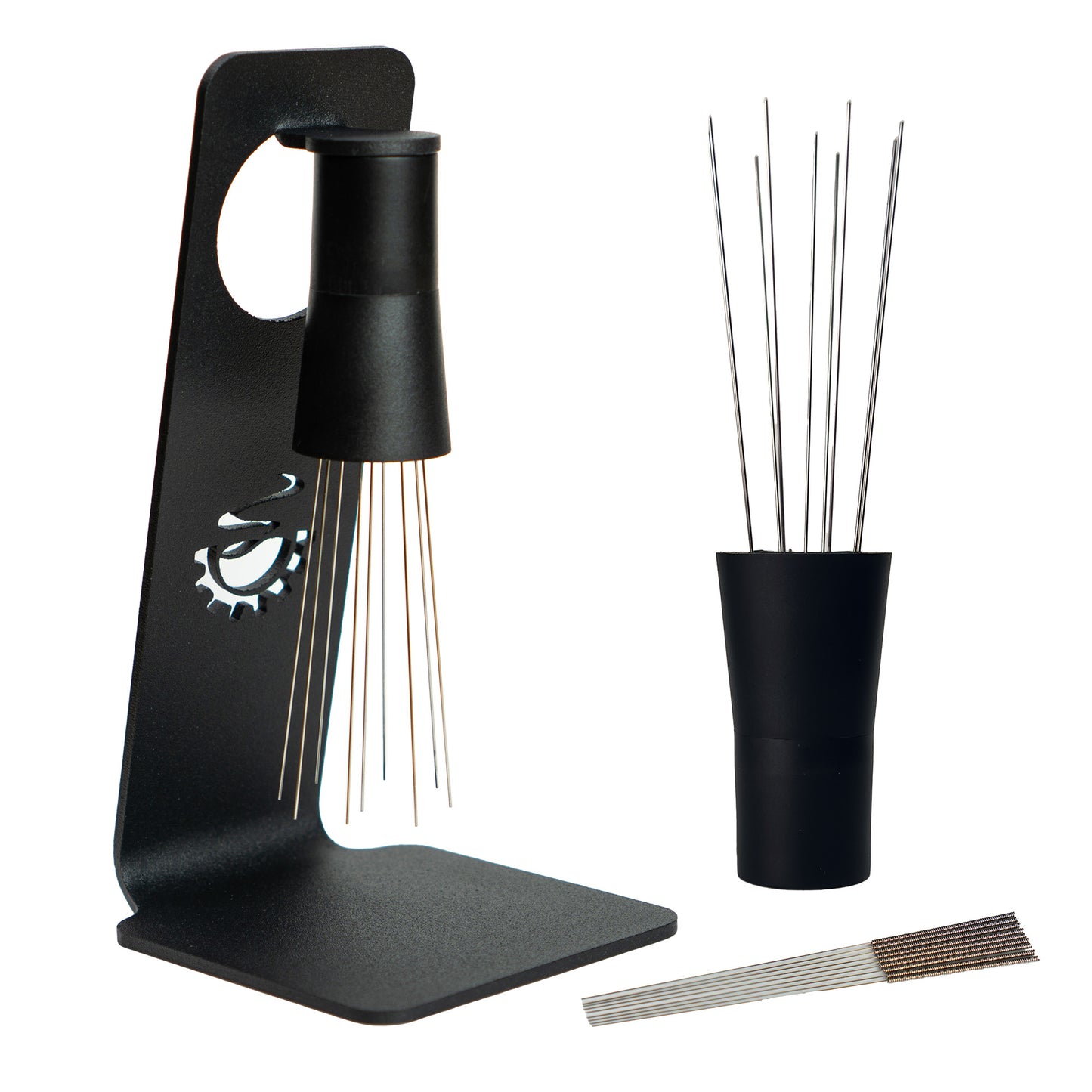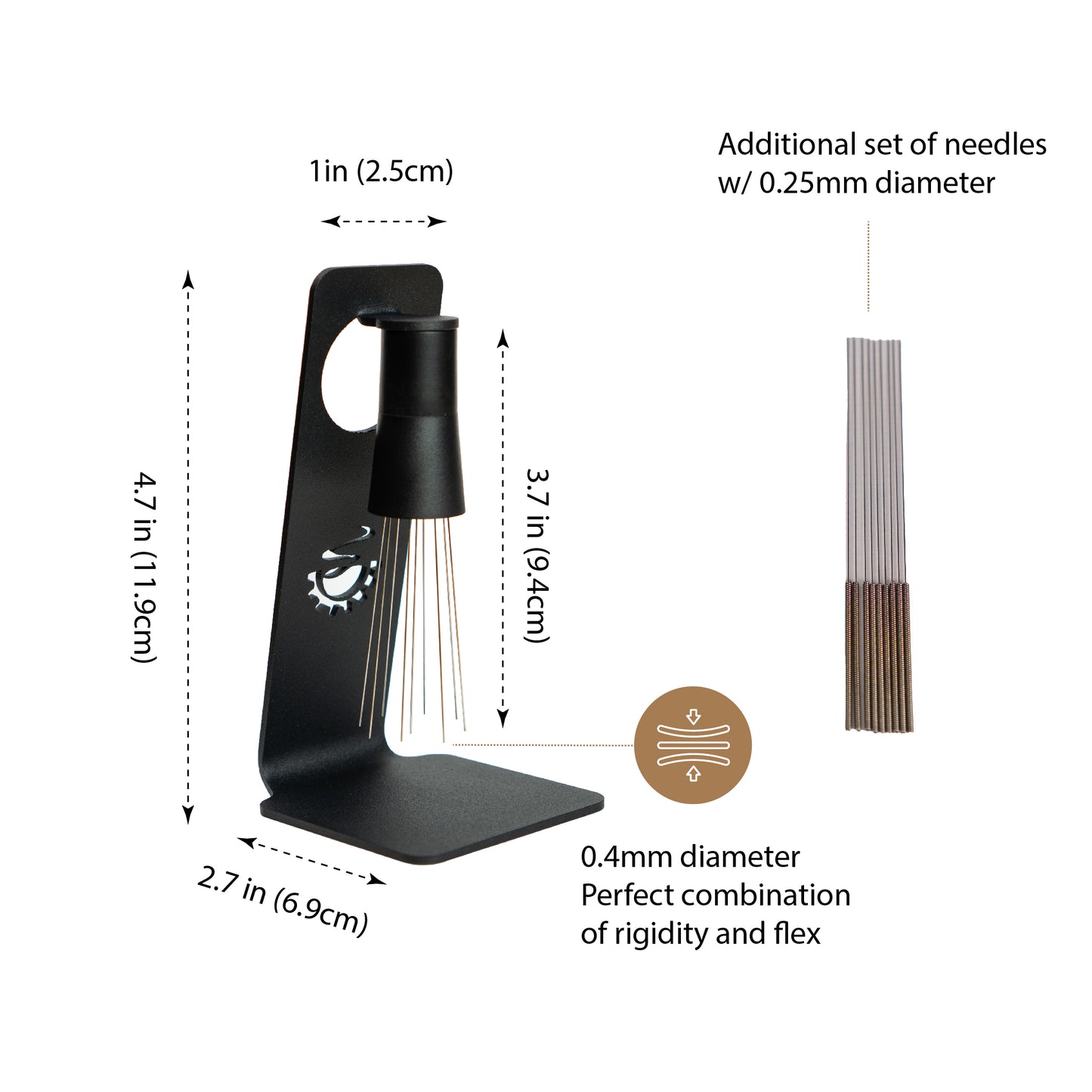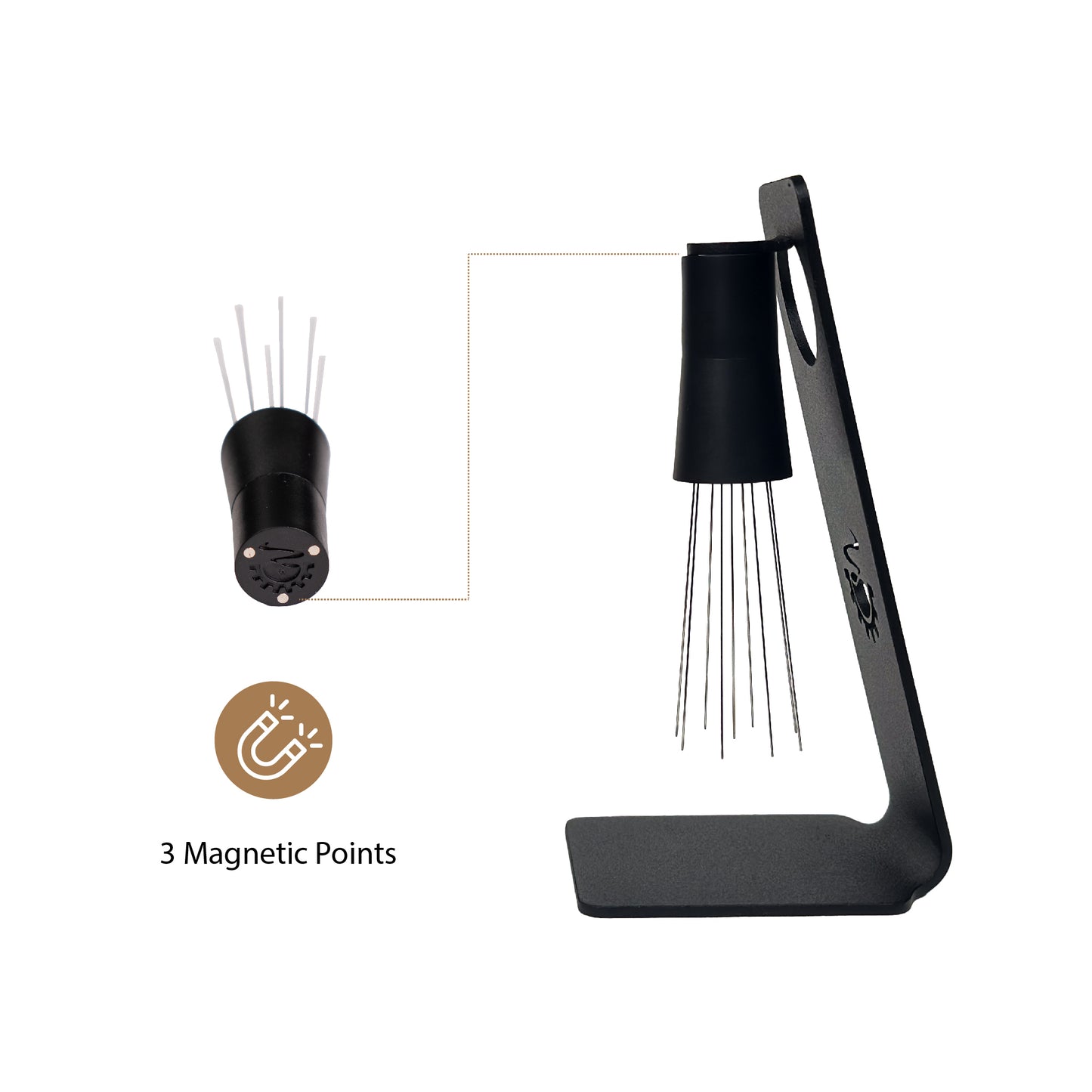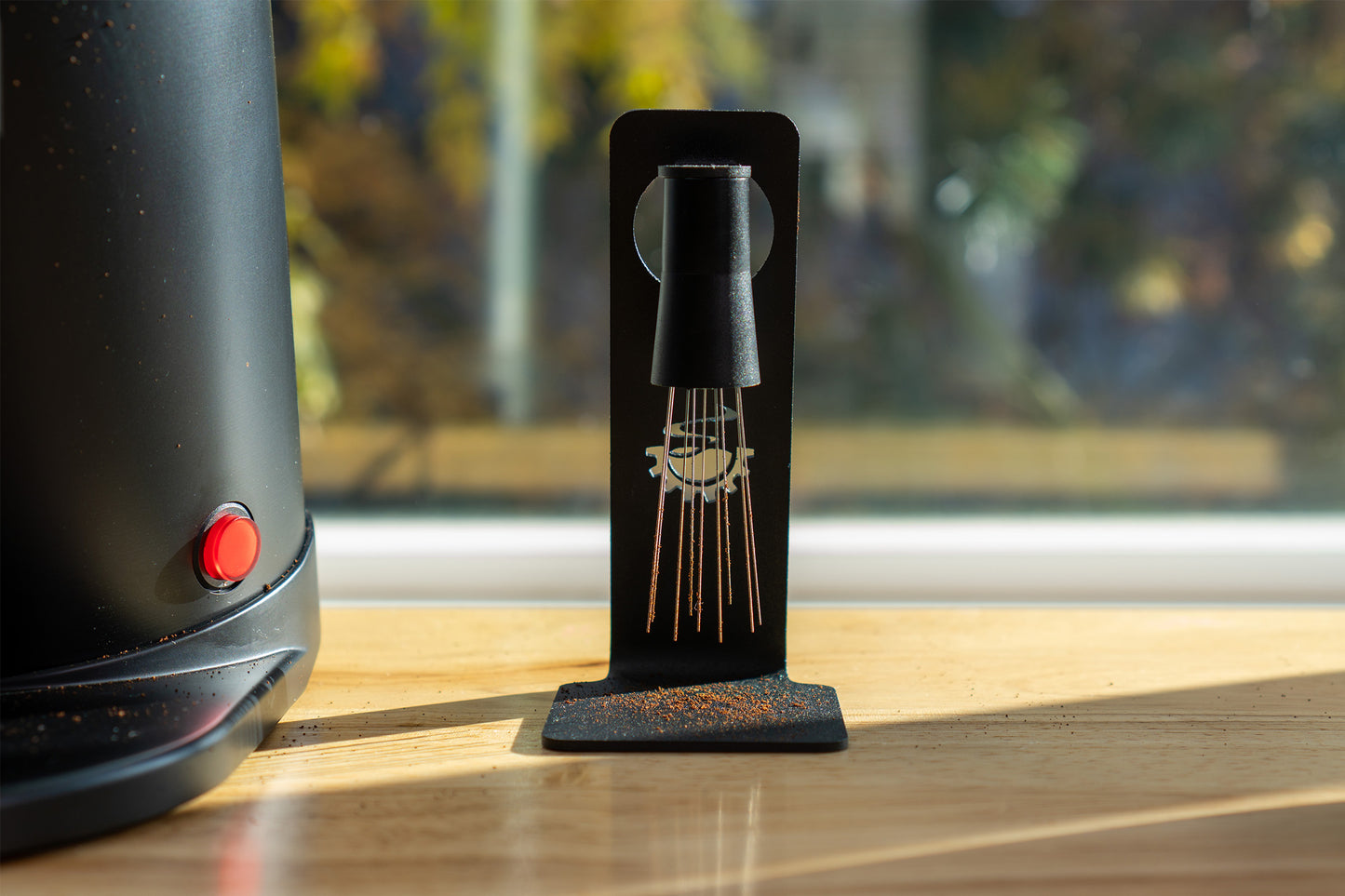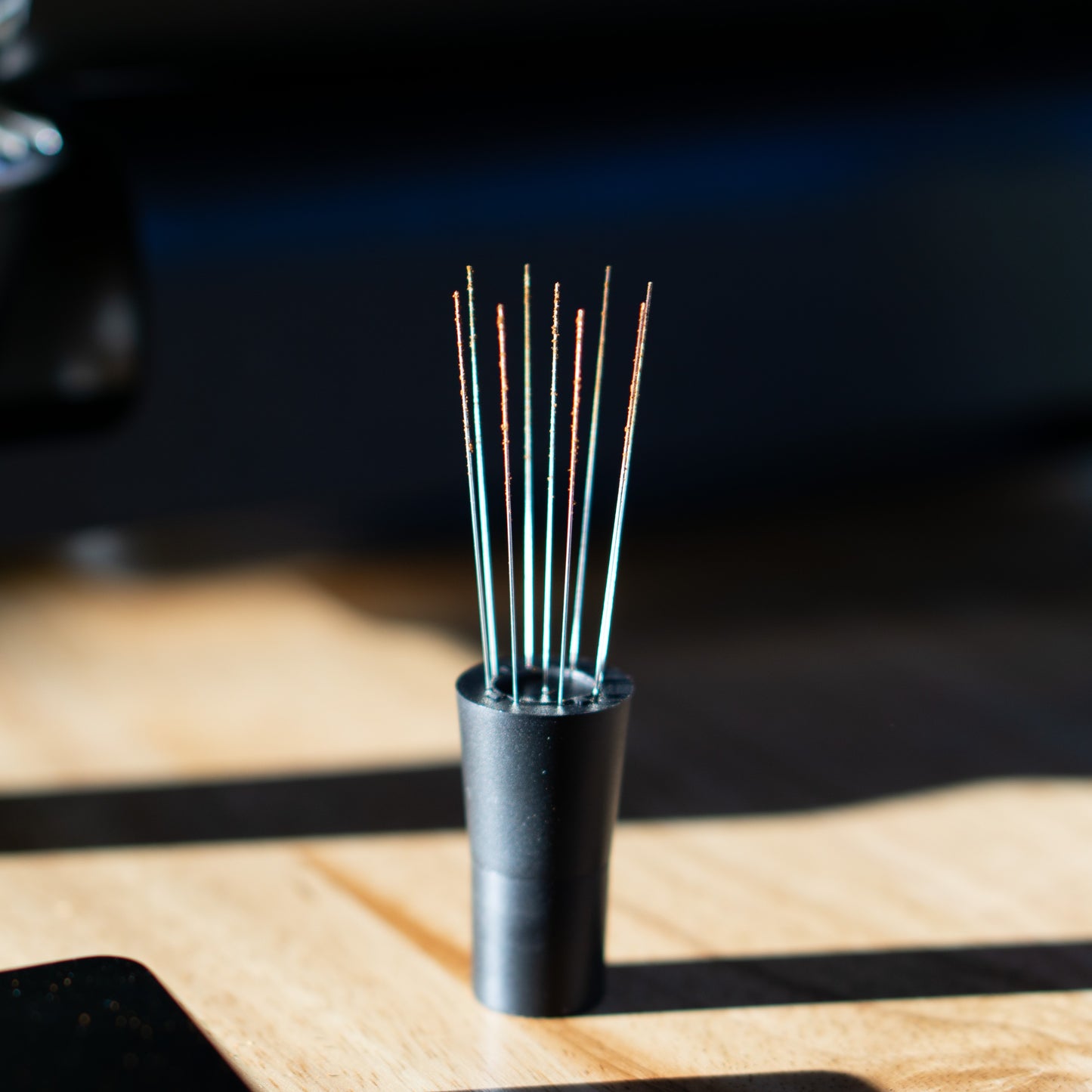 works great
This little tool will make your espresso taste better if you take the time to distribute the grounds uniformly before you tamp. and is easy to replace the stock needles and you can also try smaller diameter needles purchased elsewhere, but so far I like the .4mm ones. One very minor gripe is sometimes it hard to put the WDT back in its cradle because you have to fit the middle needle into the hoe - not a huge deal but worth mentioning.
Yes, our next version will have a metal stand that should be very easy to operate.
Love it. Took me a minute to figure out that I had to unscrew the top to install the needles, but once I got beyond that I've been really enjoying the process of using it (it feels and works great) and the product of using it (perfectly balanced pucks with no channeling). Lovely!
This little tool is perfect
The MiiCoffee WDT tool is very well made and cleverly designed, and it does the job beautifully. It even comes with an extra needle. All at a very modest price. Bravo! (Be sure to unscrew the handle to insert the needles! That's not completely obvious unless you study their online pictures.)
Works very well. Built solidly. Helps make already good coffee REALLY delicious. Bought a terrible one off of Amazon. Used it once or twice then left it in my drawer. So sad. I use this on almost every espresso I have now. Replacement "needles" can be had for super cheap. Note how you can arrange up to nine needles in a pattern you like. Up to the user. Comment to Vendor: Please make this in black!