Regular price
$399.00 USD
Regular price
Sale price
$399.00 USD
Unit price
per
Sale
Sold out
When you see "in stock" status products are truly ready to ship in 24 hours. There is no need to call us to confirm.
MiiCoffee DF64 II single dose coffee grinder is complete re-design of the old populate DF64 grinder. It integrated the best elements from DF64V and DF83. The three seated position for the upper burr carrier integrated wave spring makes the grinding chamber  absolutely stable. At the same time it achieves minimal retention at the new level. The exit chute is equipped with plasma generator (aka Ionizer) that reduces static to non-existent. DF64 II now comes with custom made stainless steel 64mm flat burrs that deliver a fluffy grind with minimal clumping and consistent particle size distribution. The integrated Anti-popcorn cover help increase grinding speed.

Features and Specifications
64 mm Grinding 

Custom made 64mm stainless steel flat burrs. Upgradable to SSP burrs for different coffee tastes.
Plasma Generator (aka Ionizer) The exit chute is equipped with plasma generator (aka Ionizer). It reduces static to non-existent.
Anti-Popcorn The integrated Anti-Popcorn ring prevents beans from jumping and helps increase grinding speed.

58mm Food Grade Aluminum Dosing Cup

.

Now comes with 58mm food grade aluminum dosing cup. While a portafilter can be used in the portafilter rest, it is best to use the dosing cup, especially if your portafilter isn't 58mm. Dosing cup is made of food grade aluminum.

True Zero Retention <0.1 gram

. Even without bellow this grinder reaches almost zero retention. Blow-out funnel, with lid to completely empty the dead space.



Stepless Adjustment. Redesigned dial is wrapped with chrome. The included metal indicator makes grind size so much easy to adjust. The adjustment is stepless. It can be dialed in for espresso with high precision.
Bean Hopper Capacity: 30 grams without bellow, 80 grams with bellow

Aluminum body with powder coating finishing 
Weight

 

15lbs

Motor

 

250W
AC Input

 

100-120v/60Hz
Size

 

10" L, 5" W, 12" H fits under any kitchen cabinet.
One year warranty with MiiCoffee
Comparison
| | DF64 II | DF64P | DF64V |
| --- | --- | --- | --- |
| General | Works for a wide range of coffees and methods e.g. filter coffe and espresso | Designed for espresso only. It has less range in the grind size adjustment. It's designed to allow for more fine tuning of the grind size. | Works for a wide range of coffees and methods e.g. filter coffe and espresso |
| Stock burrs | Custom made 64mm stainless steel flat burrs | Custom made 64mm stainless steel flat burrs | DLC Coated 64mm Flat Burrs |
| Motor | AC 250W | AC 250W | DC Brushless 300W |
| RPMs | Fixed at 1400 | Fixed at 1400 | Variable from 600 to 1800 |
| Size | Normal | Normal | Compact |
What's in the box
MiiCoffee DF64 II Single Dosing Coffee Grinder
Bellow & Wood lid
Metal Dosing Cup & Dosing Ring
Manual
More
Manual
FAQ
Shipping & Returns

Free shipping on orders over $69.

Returns are accepted up to 30 days from the date the order was delivered. Open Box items are non-returnable.
Share
View full details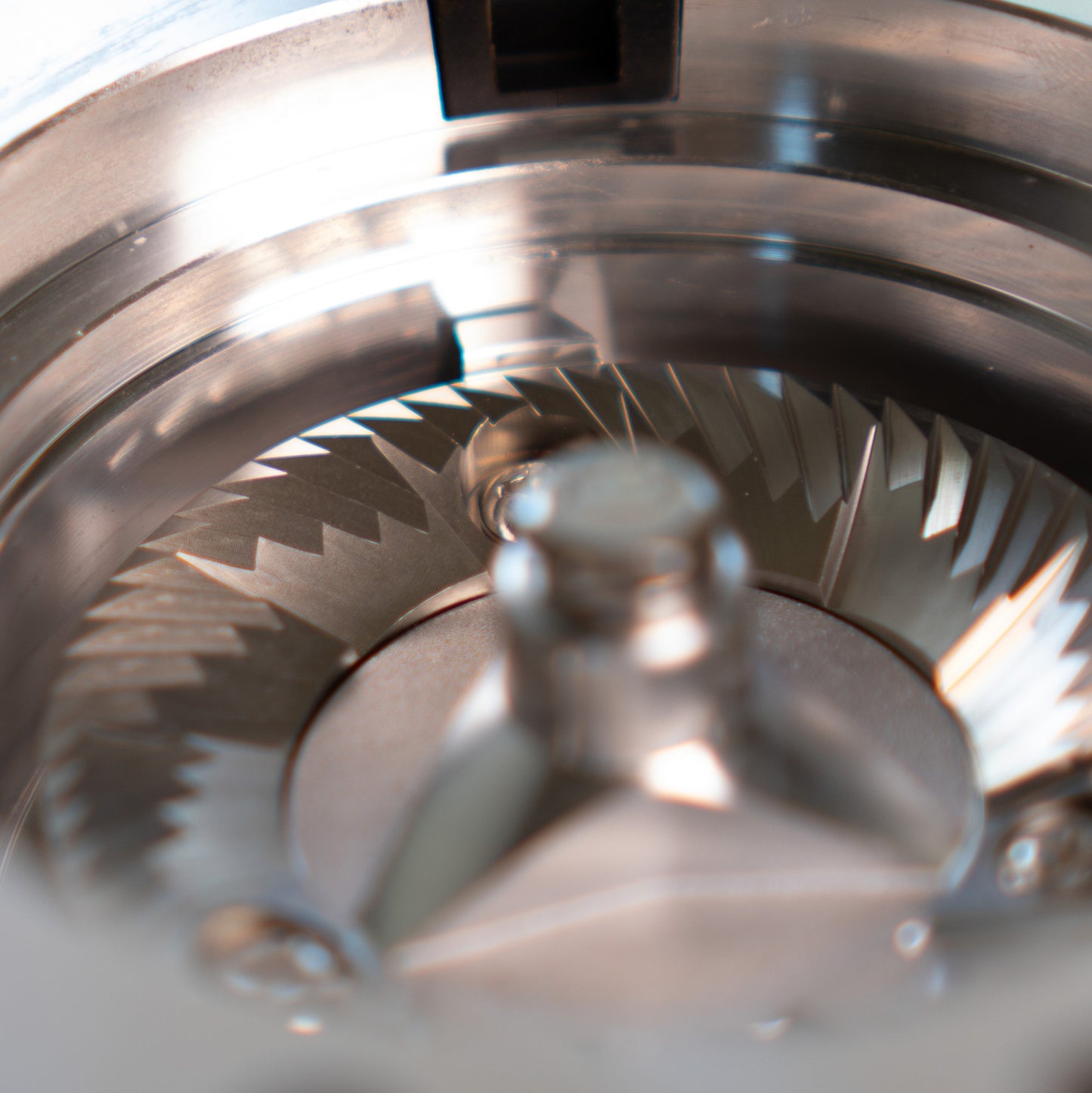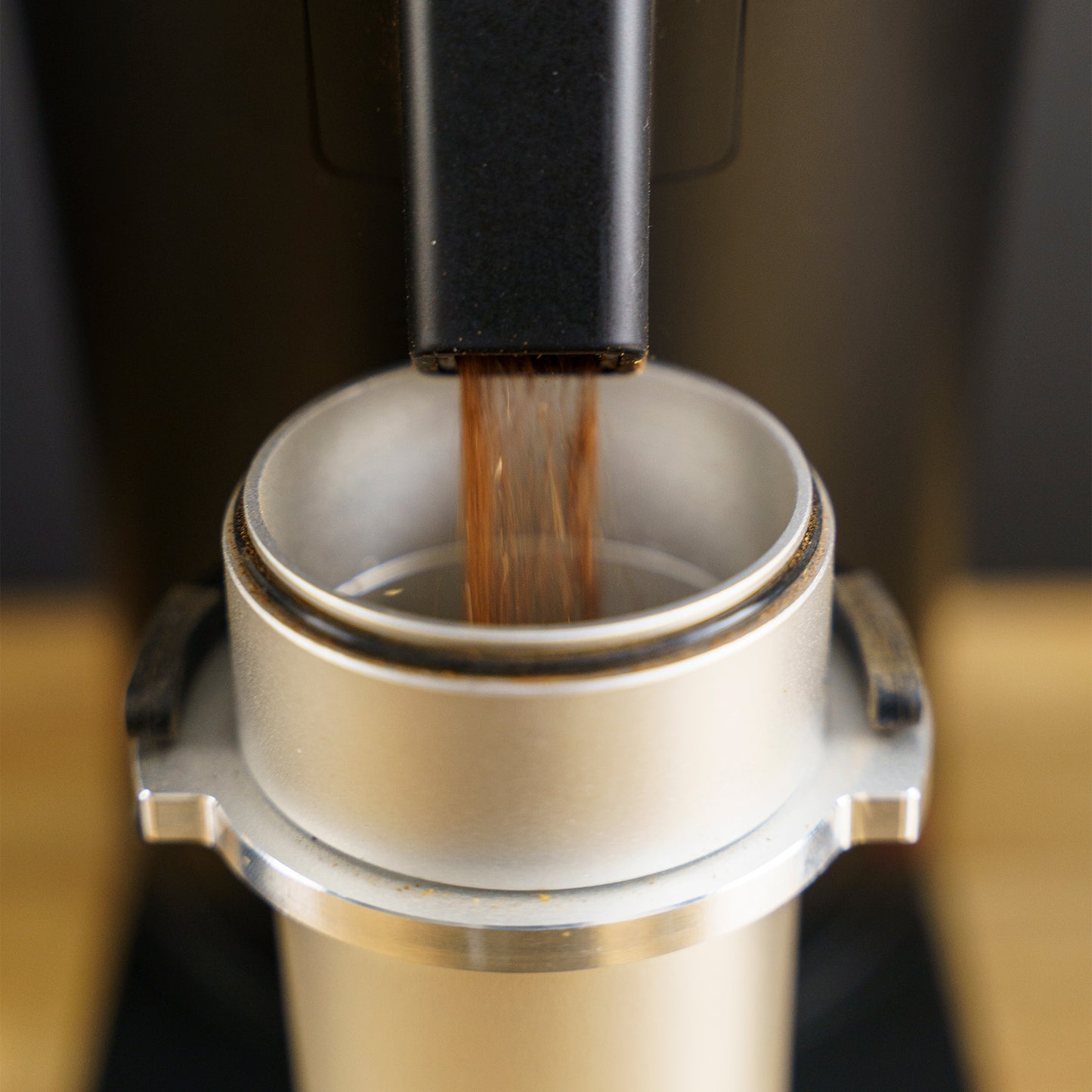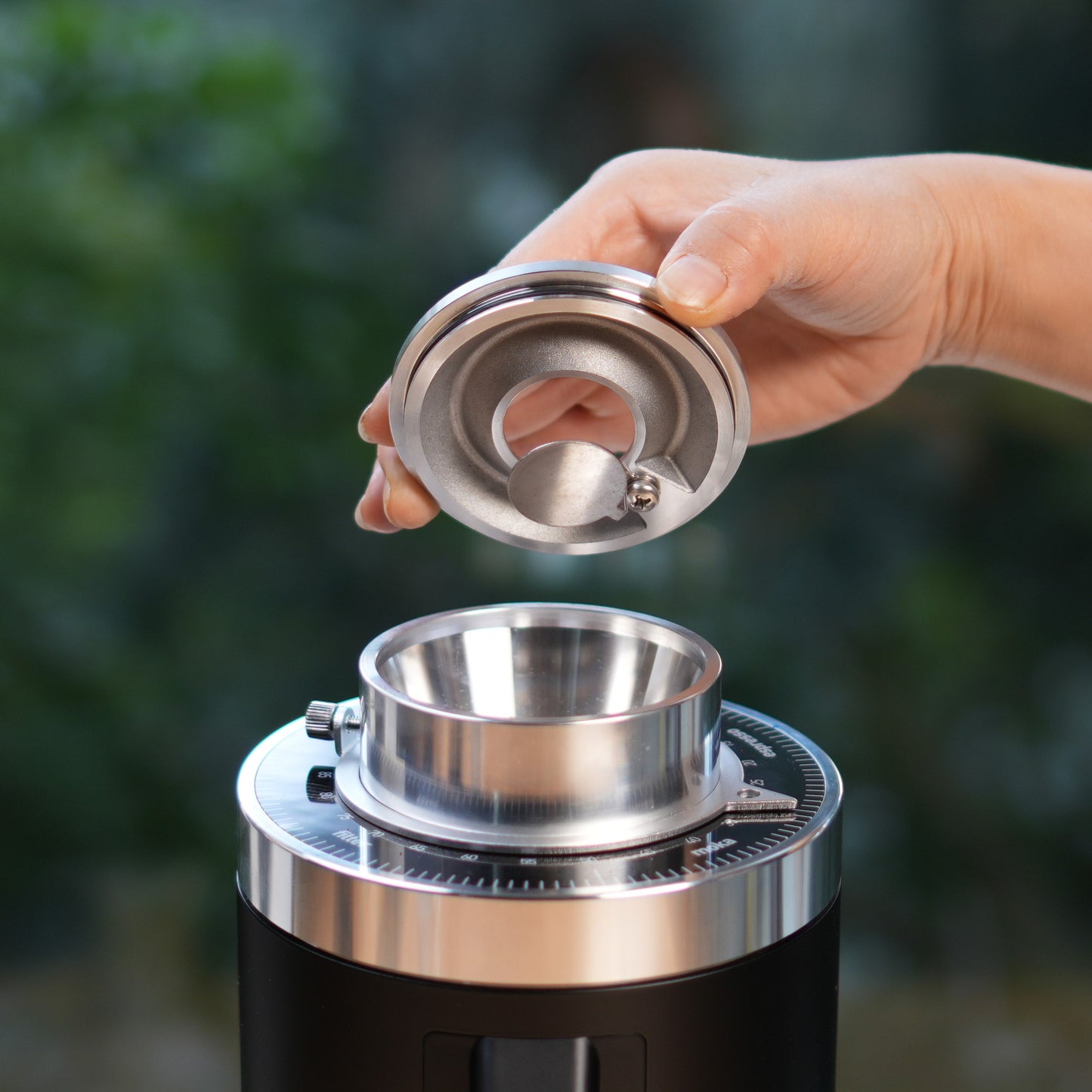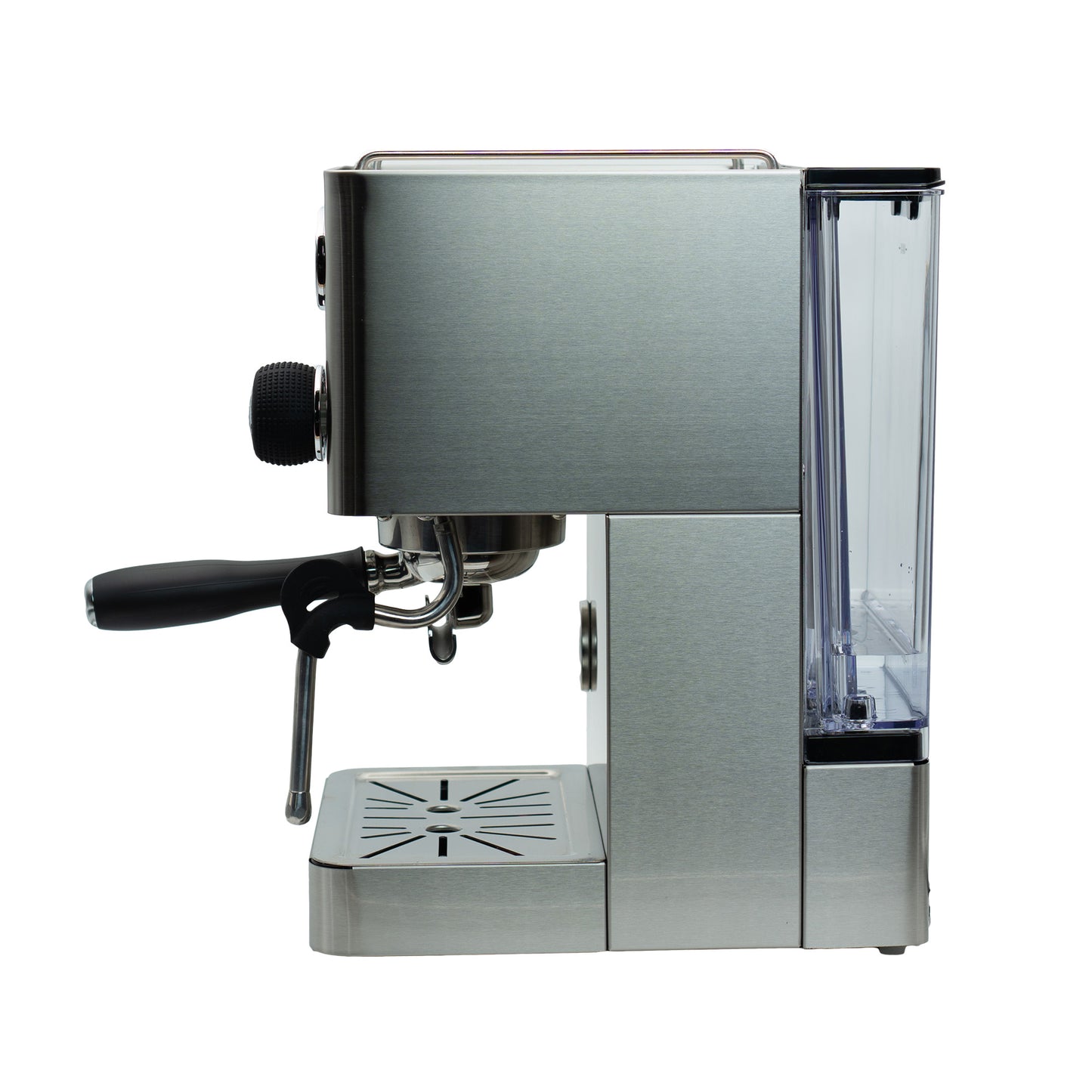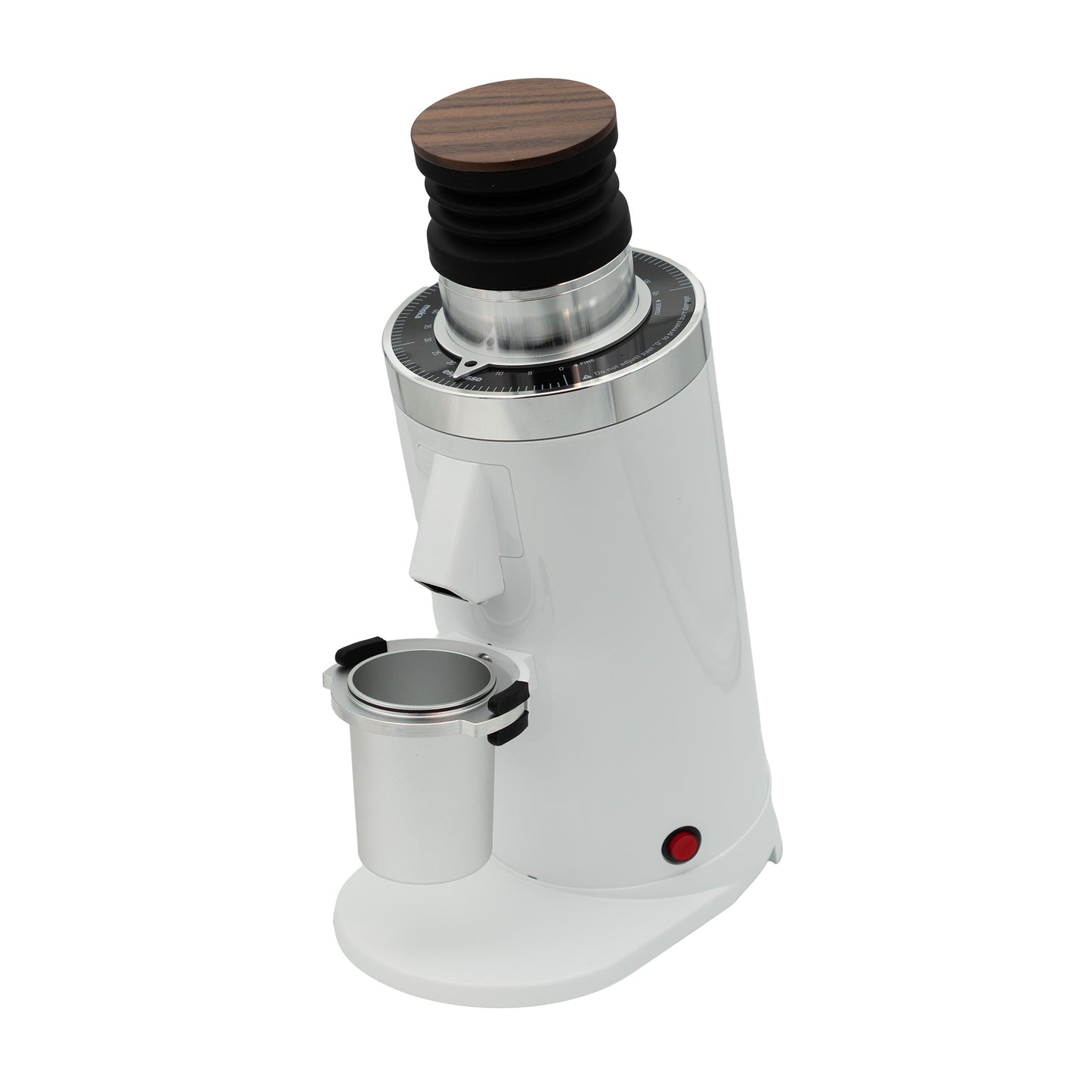 Great grinder.
Very happy with it so far. Build quality is solid, the workflow is straightforward, and the coffee is excellent. Nearly zero retention with use of the bellows. I do think the bellows are necessary to avoid retention, exchange, etc., but its no hassle at all to pump them a few times at the end of a (very fast) grind.
I had the SSP Cast installed and aligned by MiiCoffee. I think the burrs may need a bit more seasoning to come into their own, but they were definitely tasty out of the box.
I suspect the ion generator is helping, but there is still some mess, especially at coarser grind settings. (I don't use RDT, which I suspect would help.) But it's still loads cleaner than my Baratza Encore was, and it's easy to keep the coffee station clean with a bit of brushing as part of my workflow.
Luke was communicative throughout the process, including sending me a photo of the alignment test before shipping the grinder and answering my questions promptly. Excellent customer support from MiiCoffee.
I love it
Have a little mess since even grinding even for espresso gives a bit of static that make some particles stick to the grinder. Otherwise it just awesome. Highly recommend.
Impressive
I'm impressed with the quality of materials, details, and weight. Things like the metal anti-popcorn device and aluminum dosing cup are nice touches. Coming from a Baratza Virtuoso (conical burrs). This DF64 is so much faster and uniform than the Baratza. New anti-static features seem to work well, but I always RDT anyway. Good communication and shipping from Miicoffee!
Fantastic
No regrets buying this. As others have said it can be a little messy, but no biggie. Really sick grinder. Love every second using it.
A simple machine
I have been using this grinder for a few weeks now. As others have said, can be messy, especially with the static of courser grinds. However, after dialing in my coffee's, I'm able to quickly single dose a bold roast espresso for myself, a decaf espresso for my wife, and later do a pour-over, all with the same machine. Make sure you have a scale or you may have trouble with espresso consistency. Overall, I'm very pleased with this simple machine and would certainly recommend it to anyone looking for a versatile grinder.
Oh yeah, this video is great for getting it set-up out of the box: https://youtu.be/GJuzz9NXKJY