Regular price
$649.00 USD
Regular price
Sale price
$649.00 USD
Unit price
per
Sale
Sold out
When you see "in stock" status products are truly ready to ship in 24 hours. There is no need to call us to confirm.
MiiCoffee DF83 Single Dose Coffee Grinder is a pro level grinder for single dose on the market. It comes with Italian made ItalMill 83mm flat burrs that deliver a fluffy grind with minimal clumping and consistent particle size distribution. Single dosing is the rage in the espresso aficionado world these days and there aren't very many good options that don't cost a ton. DF83 also comes with a large size hopper if you prefer not to single dose or if you have a larger amount of coffee you want to grind. The uniquely designed grinding chamber improves a lot from DF64. It achieves very low retention even without the use of bellows. With assist of bellow the grinding chamber is kept as clean as possible at all times. DF83 is an all purpose grinder. It can grind beans for a wide range of different brewing methods, from espresso to French Press. This is a truly dreaming coffee grinder for espresso and brewing coffee.

Version Info
The current version is V3 

Now it comes with anti-popcorn disc and new bellow.
Previous versions:

V2 includes a plasma generator and new declumper.
Features and Specifications
83mm Flat Burrs Italian made ItalMill 83mm stainless steel flat burrs. Upgradable to SSP 83mm burrs.
Dual Purpose with Large Size Hopper & Bellow Large size hopper allows you to have enough beans for multiple drinks without the need to refill. It also comes with Bellow for single dose purpose.
Plasma Generator (aka Ionizer) The exit chute is equipped with plasma generator (aka Ionizer). It reduces static to non-existent.
Wave Spring Washer Unlike the DF64 which uses 3 springs to hold the top burr carrier in place, DF83 uses a wave spring washer. With the wave spring washer design, the top burr can be now aligned properly. Taking the top burr off has never been so easy, just simply unscrewing the top burr collar.
Anti-Popcorn The integrated Anti-Popcorn disc prevents beans from jumping and helps increase grinding speed.
58mm Metal Food Grade Dosing Cup While a portafilter can be used in the portafilter rest, it is best to use the dosing cup, especially if your portafilter isn't 58mm. Dosing cup made of food-safe materials.
True Zero Retention <0.1 gram Blow-out funnel, with lid to completely empty the dead space.
Stepless Adjustment. Large dial adjustment with infinite number of setting from the fine to coarse
Aluminum body with metallic black/white finishing 

Weight

 24

lbs

Motor

 550

W
AC Input

 

100-120v/60Hz
Size 9" L, 6" W, 18" H with hopper
One year warranty with MiiCoffee
What's in the box
DF83 Coffee Grinder
Large Size Hopper
Bellow
Metal Dosing Cup & Dosing Ring
Manual
More
Upgrade to

 

SSP Espresso Grinding 83mm Flat Burrs

 

possible
Easy-Clean Technology : The grinder can be opened for cleaning in a few simple steps without tools.
Manual
Shipping & Returns

Free shipping on orders over $69.

Returns are accepted up to 30 days from the date the order was delivered. Open Box items are non-returnable.
Share
View full details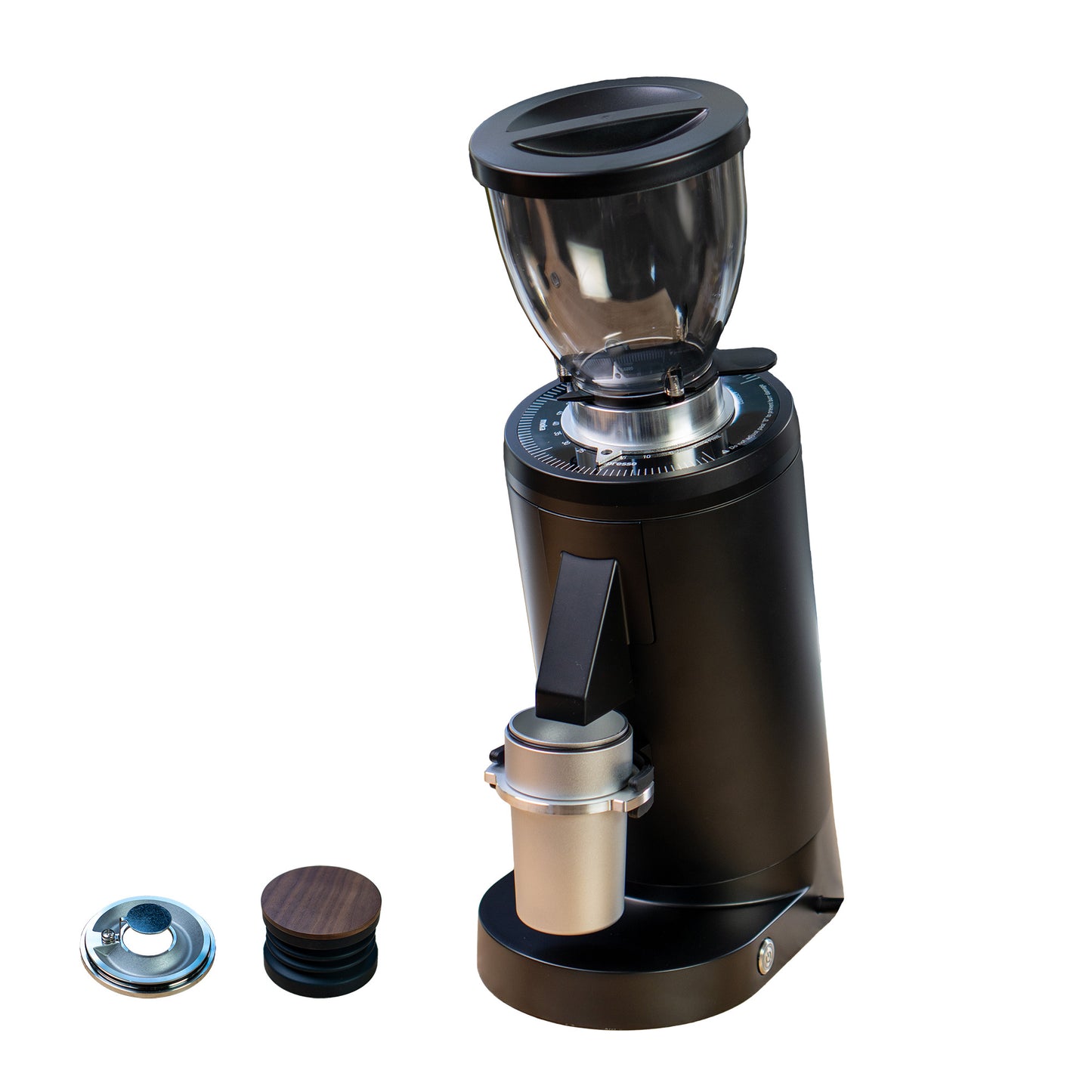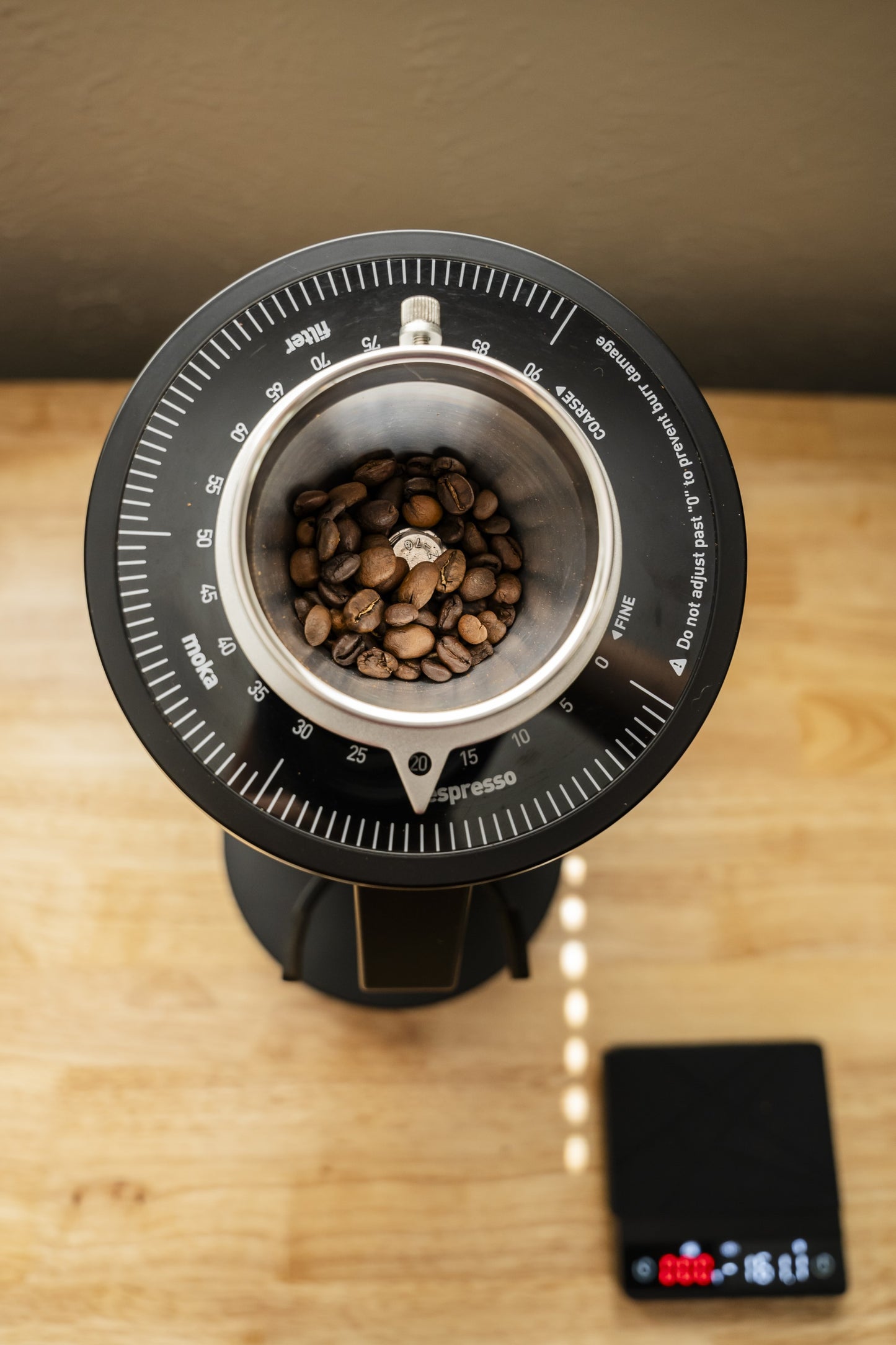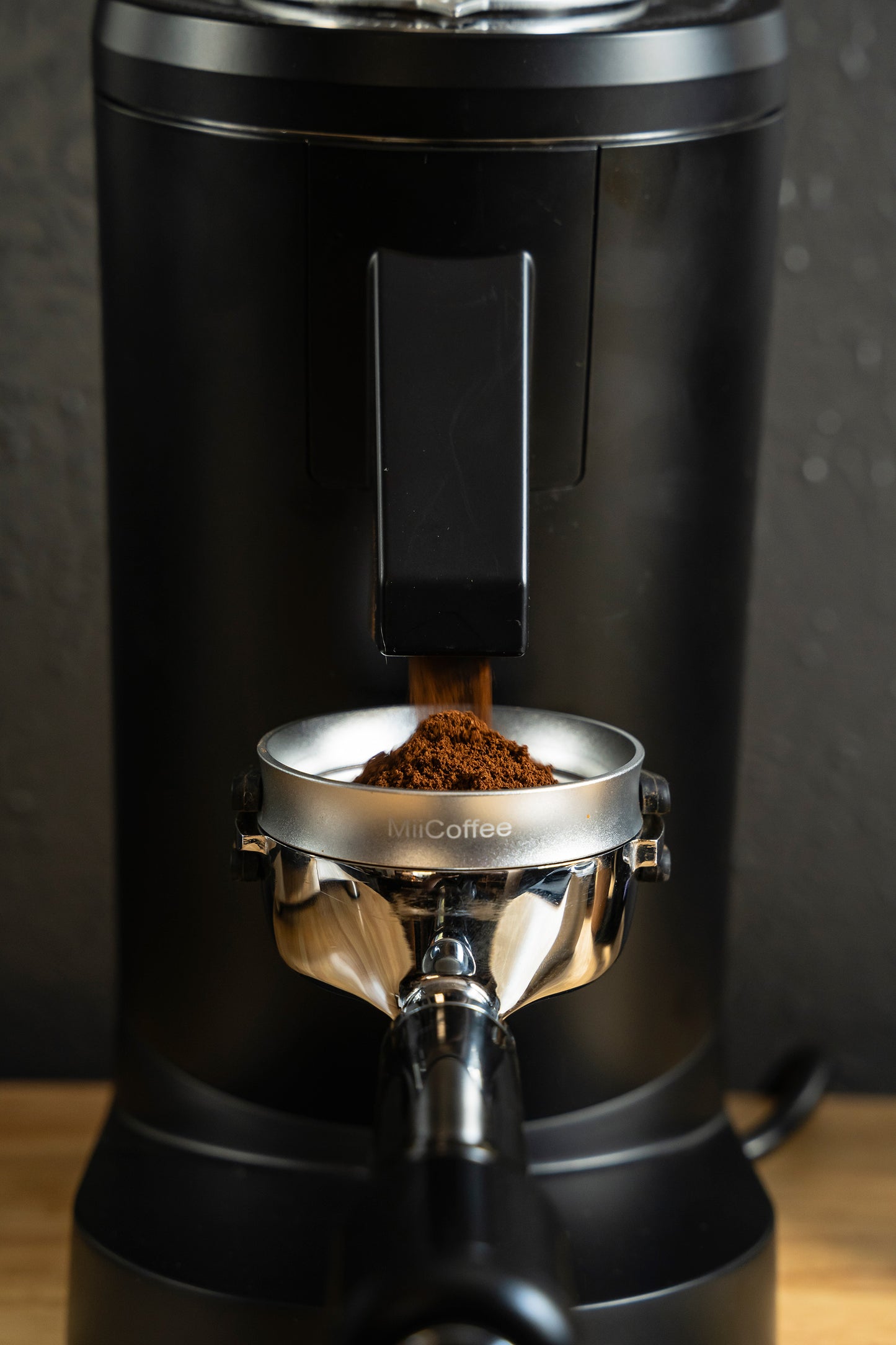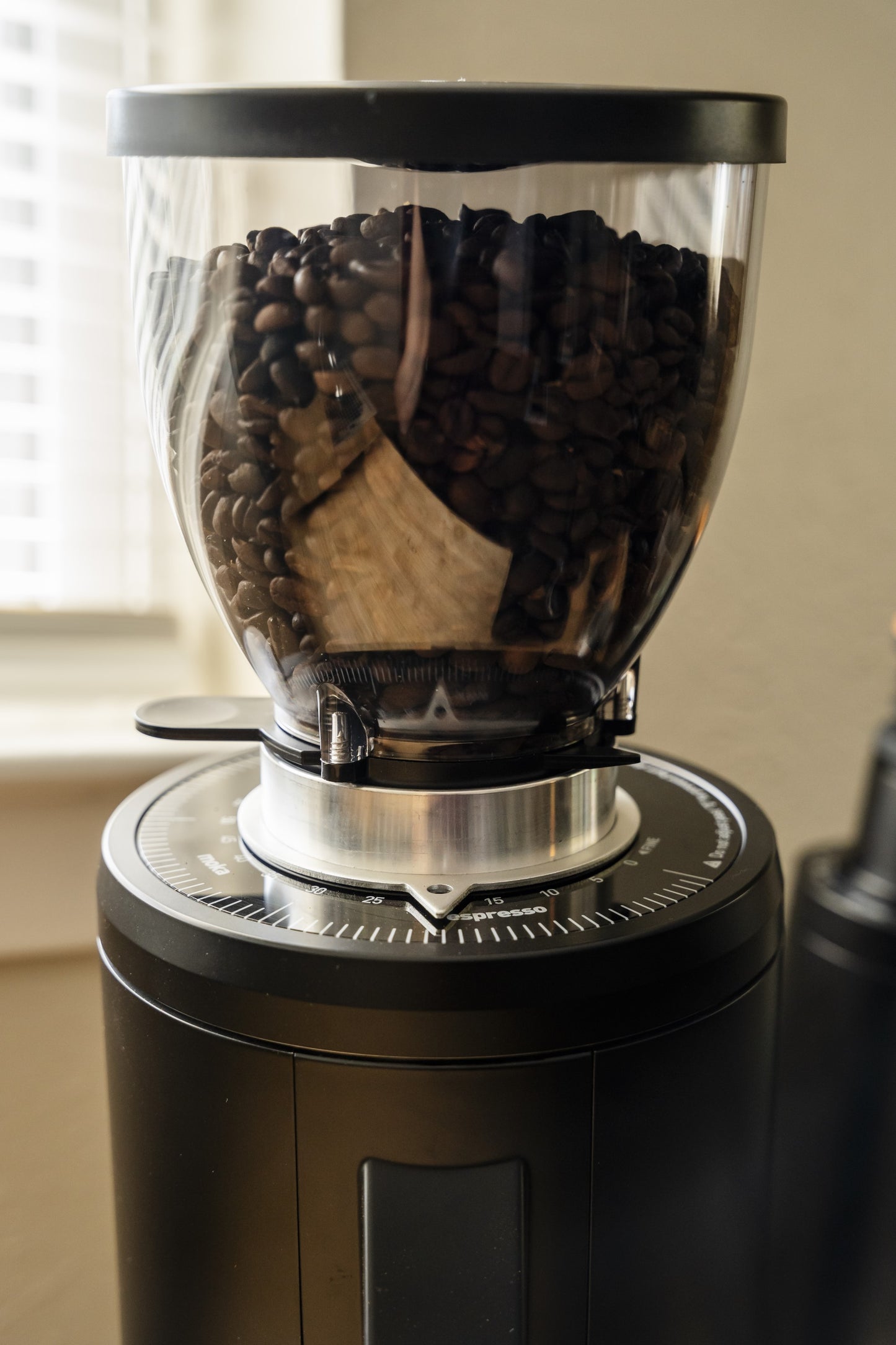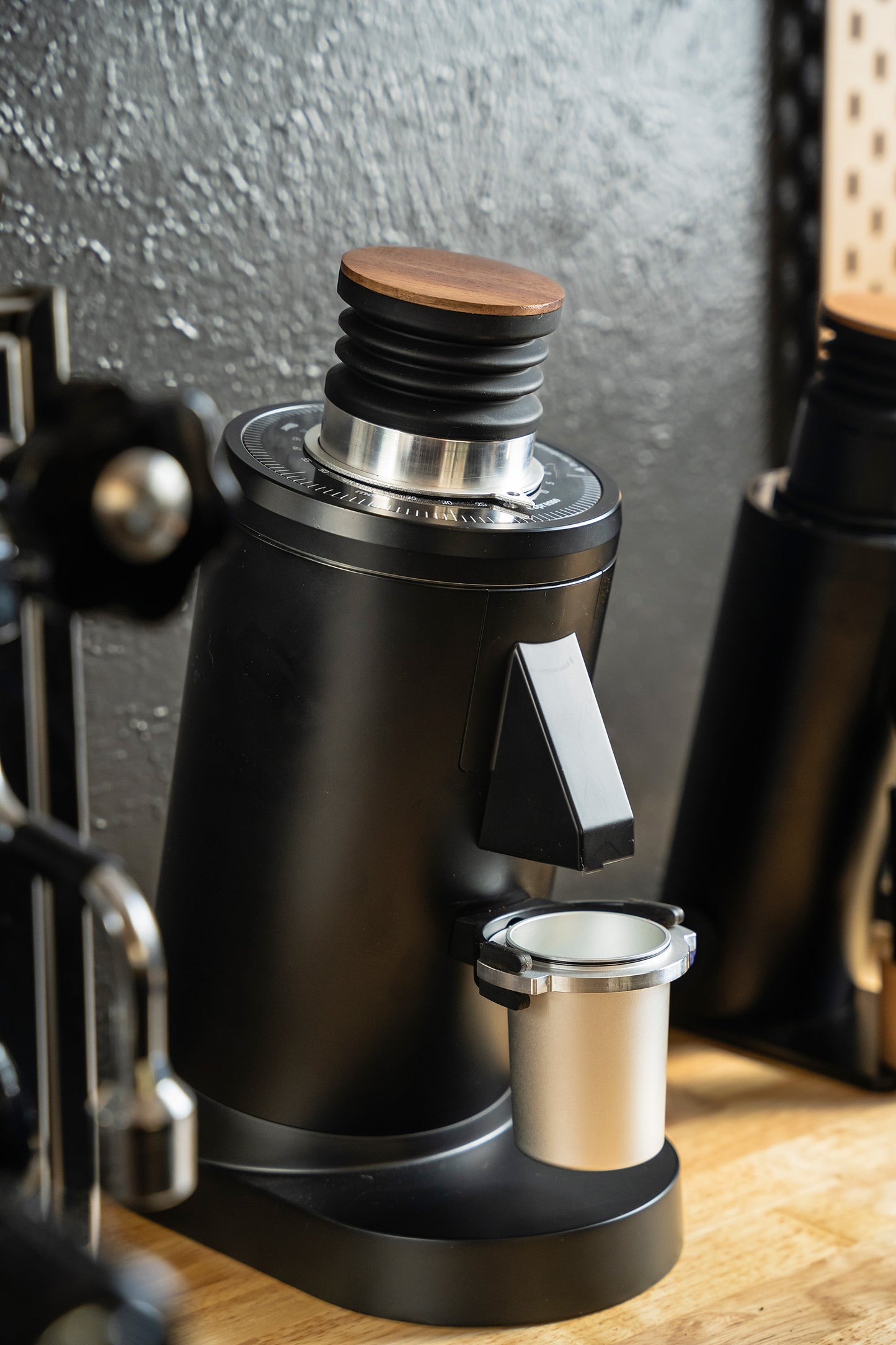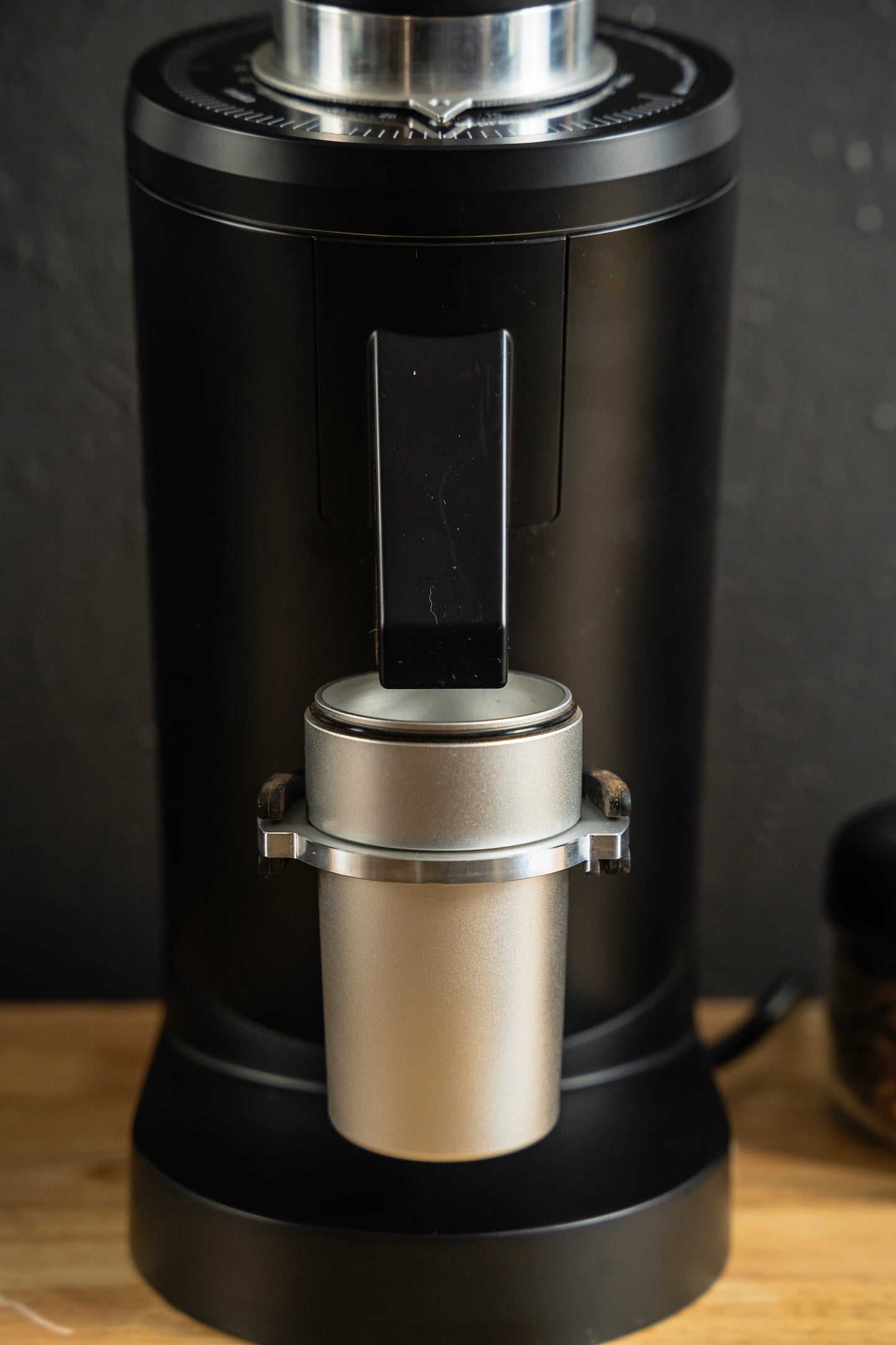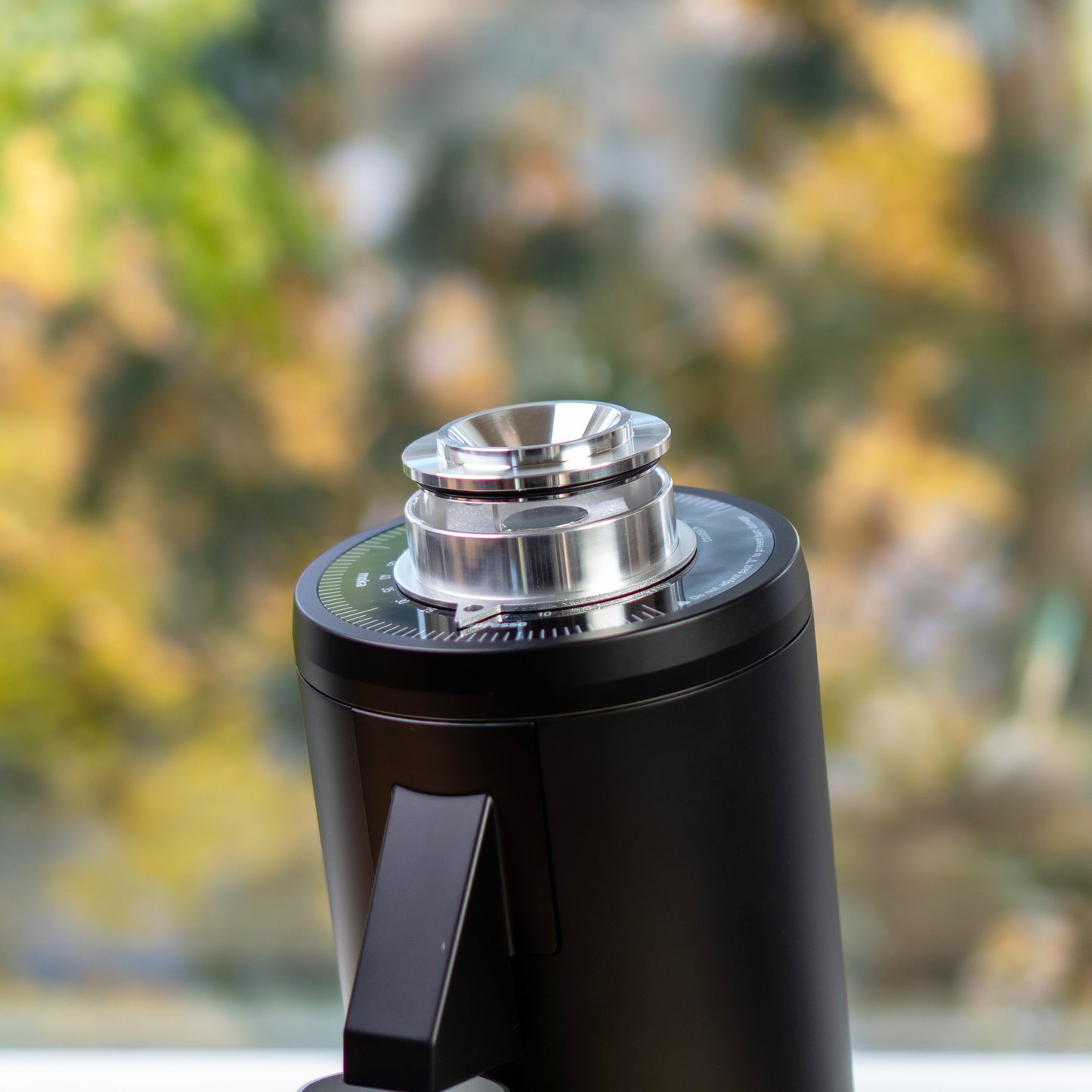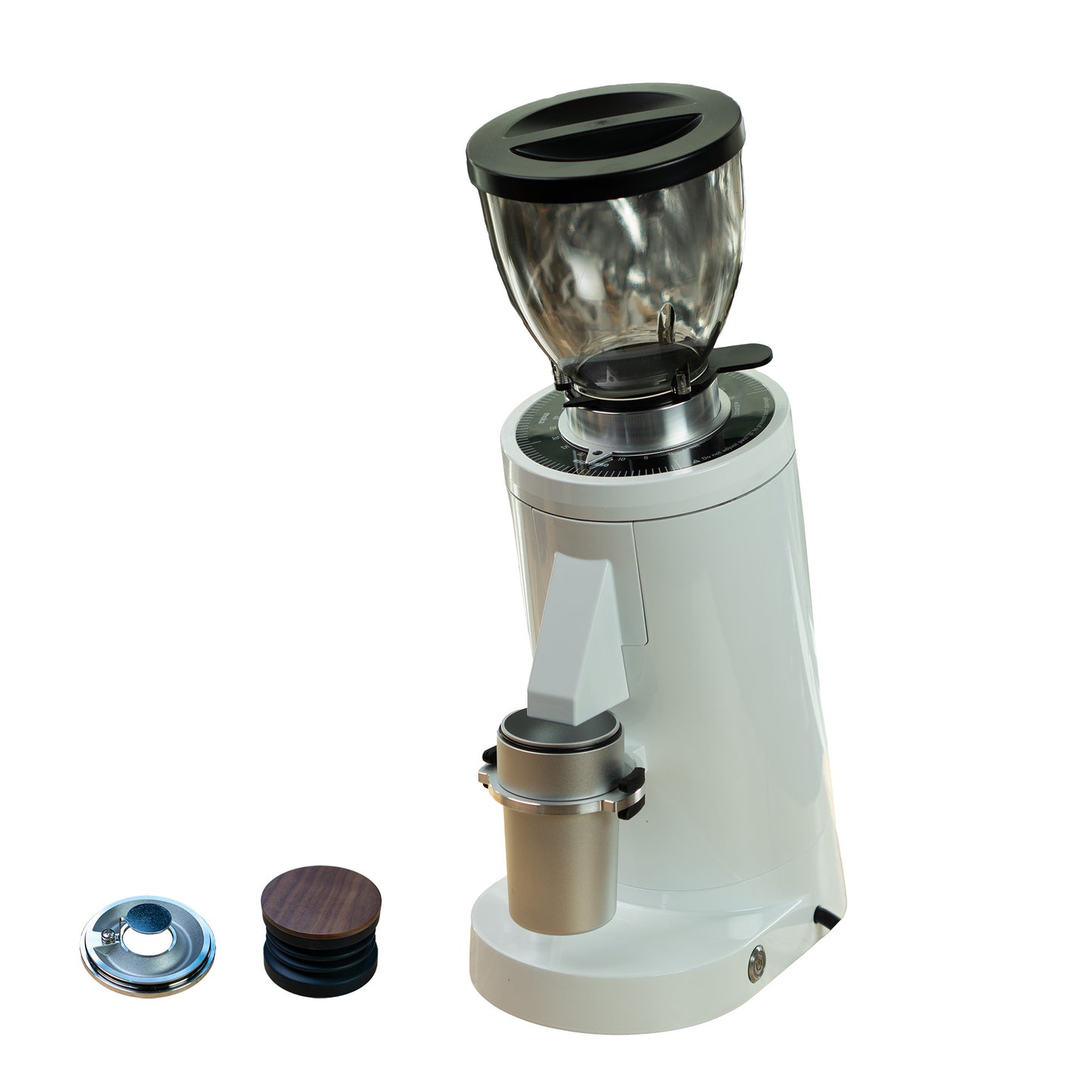 DF83 V2
Awesome grinder and great service! Very satisfied with my purchase.
Not quite.
While it lives up to reputation for zero retention and a great cup, there a few things that need improvement.
The bellows works and the few times I have tested the weight in and the weight out, I have not been disappointed.
The provided cup and portafilter adapter work, but the adapter seems to capture grinds. It isn't enough to throw off the weight/dose but contributes to the grinds that end up on the counter top. I am using an aftermarket portafilter adapter that doesn't have this problem.
The cup fits the slots in the grinder, tightly, as does a portafilter. I am assuming they are meant to be tight, in the beginning trying to account for wear in later years.
The parts I am disappointed with ..
A bit noisy.
The vibration, considering it is a cylindrical motor, should be much less than it is. It vibrates enough that the portafilter won't stay in place, even with the tight fit, without being held. That said, the previous grinder I had to hold the portafilter all the time. The provided aluminum cup will stay in place. I put a bit of pressure on the cup anyway, just in case.
The on/off button. People complain about it being on the side but I have no problem with that. It has to be depressed quite a bit in order for it to stay on. Numerous times I press it, it will start, I will stop pressing and it will stop grinding. The on/off button requires 'intention' to make it work as expected.
Excellent service
Wonderful experience buying my DF83 with ssp burrs. The grinder is great! Fast grinding, little to no mess. Very satisfied
Top notch customer service
I ordered the df83 on a Friday with ssp mp burrs installed and aligned. The very next Friday it was at my door! This must be because the Sunday after my order I had already received the photos of my newly installed burrs that I got in my email that morning. Seller has also been extremely quick to answer any questions regarding the order or grinder.
DF83 v2/stock burrs is a beast. Excellent grinder, but with a few non-deal breaking design flaws
The reason I bought this is because I wanted to get a do-it-all grinder for both espresso and aeropress and I wanted to be able to switch back and forth easily. It is a very capable grinder, and does especially well with espresso and is very fast too. And a total tank, unit weighs 24 pounds! You may have seem some criticisms about the cord being on the side rather than the back, but that's a plus for me on my limited counter space as I can push the unit right up against the backsplash. And it is not particularly quiet when grinding for espresso, a lot more quiet when grinding coarser. Why I gave this grinder 4 stars is due to the following, which are what I perceive to be small design flaws that could have been avoided for something in this price bracket:
1) the inner diameter of the dosing cup extension is smaller than the inner diameter of the dosing cup which creates a ledge, so when you pour grinds out of it there will always be grounds that retain in the cup that get caught on that ledge (Luke from Mii said they are working on some sort of solution when I brought this to their attention, but this is what I have now)
2) the printed numbers on the adjustment ring are not uniformly spaced around the 10-20 section
3) the small rubber bumpers on the cup/portafilter holder are not glued on - they are held on by compression and are very thin - one popped off already by just removing the dosing cup, but was easy to slide back on. They should be thicker and glued on- however, unit does come with a few replacements.
4) the power button was installed at a slight off-angle - should have been square. Also, the power button light is on at all times when plugged in regardless if unit is on or off - I prefer power buttons to light up only when something is 'on', not because it's plugged in. Yes, minor gripe.
But hey, if Lance Hedrick says this is the best grinder available period that's less than (currently) $1000, that's something. (search on yt: "Lance Hedrick Too Good to be True")